OWN A BÉTON SURFACE

FRANCHISE
Become a Béton Surface franchisee
If you have the desired qualities and the funds needed to become a Béton Surface franchisee, please don't hesitate to call or write for an appointment. We will be pleased to answer your questions.
Take the plunge! This is your golden opportunity to become the owner of a franchise that will earn you the respect of your future customers. One day soon, you'll pick up the phone and hear "Hello! I have a neighbour who had his garage floor finished by your company and he strongly recommended that I call you."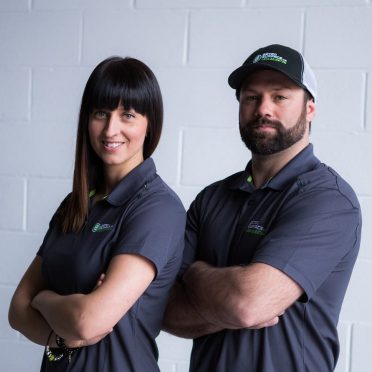 Franchises available
With more than fifteen years of experience in the concrete paint and coating sector, Béton Surface is a young and dynamic company that is experiencing rapid growth. In order to provide our services in garage floor finishing throughout Quebec, Béton Surface is offering you one or several of its available franchises.
WHY CHOOSE BÉTON SURFACE?
Many reasons to become a Béton Surface franchisee:
Acquiring a Béton Surface garage floor coating franchise gives you many advantages:
You are the owner of your own business.
You are independent and carry out operations on your own.
We work together to maximize your success.
You will enjoy the reputation of a well-known brand as soon as you open your business.
The advertising, marketing and website have already been developed.
The supply chain already exists.
You can benefit from proven techniques, in addition to initial and continued training.
You can benefit from high-quality technical assistance.
PHILOSOPHY
Values that lead to success
We are a modern franchisor who likes to be surrounded by talented business partners. We structure our business relationship so talent can be recognized and used for the continuous improvement of our business model.
Vision : To be the uncontested leader in concrete flooring solutions to the eyes of Canadian consumers.
Mission : Build trust, one customer at a time.
Values : Respect, attentiveness, rigor and commitment.
STARTING COST
How much will you need to invest?*
Between $85 800 to $95 000
We offer a turnkey concept that includes:
$30 000 – Franchise fees – Exclusive right to operate in your territory
$55 000 to $65 000 for:

Complete training (including travels and meals)
Inventory products and working capital
Opening marketing campaign
Equipment
Vehicule insigna
Permits
Accounting and legal fees
Miscellaneous cost
Down payment for institutional financing purposes
*This information is for discussion purposes only. The franchisor makes no representations to the franchisee about start-up costs, sales, turnover, expenses or profits. The franchisee's success depends on many factors including, but not limited to, the franchisee's experience, management skills, employee skills, competition, weather, demand patterns, economic conditions, hours of operation, customer service, site cleanliness, and so on. The franchisor and its employees and officers do not assume any liability whatsoever.
* Cette information est à des fins de discussion uniquement. Le franchiseur ne fait aucune déclaration au franchisé à propos des coûts de démarrage, des ventes, du chiffre d'affaires, des dépenses ou des bénéfices. Le succès du franchisé dépend de nombreux facteurs, notamment de son expérience, de ses compétences en gestion, de ses compétences en matière de gestion, de la concurrence, des conditions météorologiques, de la demande, des conditions économiques, des heures de service, du service à la clientèle, de la propreté du site, etc. Le franchiseur, ses employés et ses dirigeants n'assument aucune responsabilité.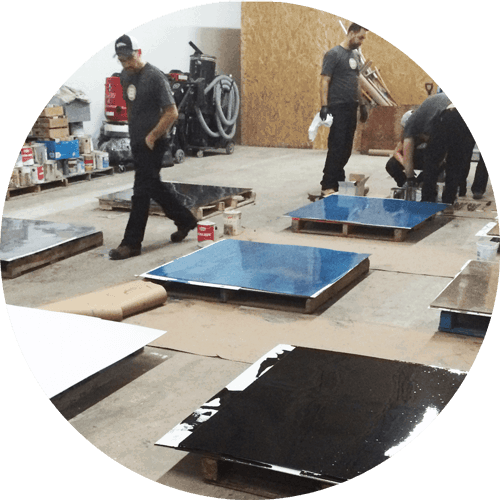 They have chosen to become ambassadors of the Béton Surface brand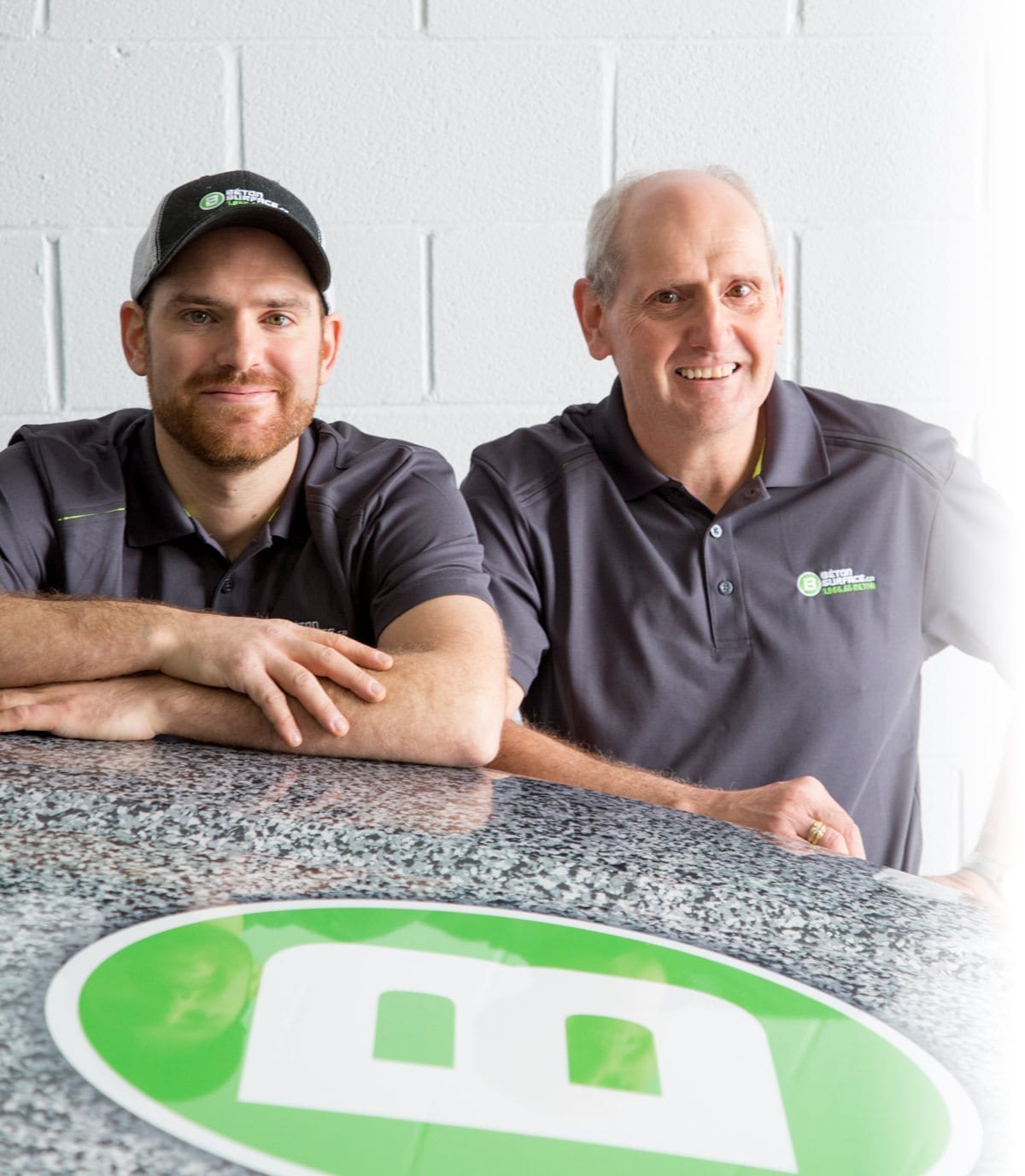 We are both entrepreneurs and work well with our hands. We wanted a new challenge and with Béton Surface, we are well served!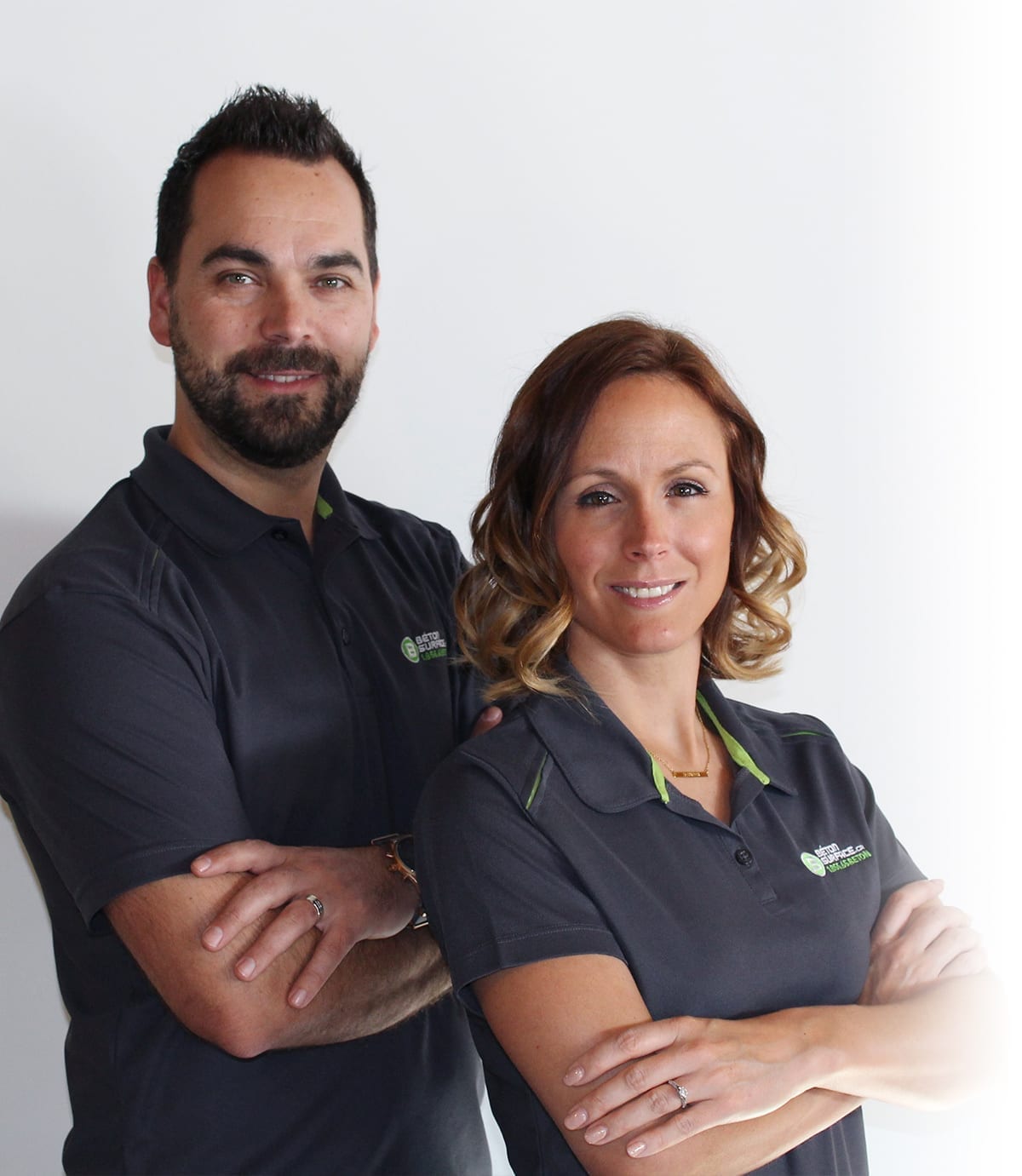 We've always had the entrepreneurial spirit. Béton Surface has allowed us to grow through a common passion
Want to learn more about owning your Béton Surface Franchise?
You have the interest and the necessary funds to become a Béton Surface franchisee? You made the decision to go forward? Do not hesitate to call or write us for an appointment. We will be happy to answer all your questions.

When it comes to floor quality, we like to believe there is no ceiling.
"They gave us a remarkable customer experience: courtesy, professionalism and a concern for our needs."