Béton Surface: Your Expert in
Garage Floor Coating in Quebec
At Béton Surface, we are passionate about our craft and have the expertise needed to breathe new life into your garage floor. If you want to transform this space into a functional and aesthetic area, you've come to the right place.
We understand how valuable your time is, which is why our dedicated team based in Quebec commits to completing the installation in just one day. This way, you can quickly resume your daily activities without worries.
Customer satisfaction is our top priority at Béton Surface. We are available 7 days a week to address all your questions and requests. Our responsive and attentive customer service believes that every detail matters.
You have a wide selection of coatings for your garage floor, tailored to your budget and preferences. Our team is here to guide you throughout the process, from selecting the coating to its final installation, offering you a personalized service.
Don't let your garage floor be neglected any longer. Contact us today and discover how we can transform it into a practical and aesthetic space that will delight you for many years to come.
HOW DOES IT WORK? 3 EASY STEPS:

Online quote
With our online quote system, you can get a preliminary estimate in less than 2 minutes.

Site visit
We can then visit you to confirm the steps, colours and the date for transforming your garage floor.

Transformation
A Béton Surface team will come to your home to transform your concrete floor in one day.
GET READY FOR AMAZING SERVICE & RESULT
POLYUREA WITH FLAKES
Polyurea with flakes is an ideal choice of floor coating for residential garages. Often mistaken for epoxy, this versatile solution offers much more than you can imagine. Not only is it perfect for garages, but it can also be used for balconies, stairs, terraces, and even family rooms in the basement.
If you are looking for a durable, aesthetic, and versatile floor coating for your residential garage or other spaces, polyurea with flakes is the perfect solution. Discover today how this coating can transform your space into a functional and aesthetic area that will delight you for many years to come.
EPOXY COATING
The epoxy coating is the ideal solution for those seeking durability, versatility, and easy maintenance. Whether it's a residential, commercial, or industrial environment, this type of coating adapts perfectly to various spaces. From garages to warehouses, hospitals, schools, and offices, epoxy provides a reliable solution for a variety of applications.
The benefits of epoxy coating go beyond its strength and longevity. Its smooth surface greatly facilitates maintenance, making it an attractive option for high-traffic areas. Additionally, epoxy is available in a variety of finishes, allowing you to customize the look of your space according to your aesthetic preferences.
OUTDOOR FLOORING
If you are tired of seeing your outdoor concrete surfaces deteriorate quickly despite the hours you spend cleaning them every year, don't worry about expensive repairs with a jackhammer. The Béton Surface team is here for you.
Our exterior floor coatings offer you an affordable and environmentally friendly solution to protect and enhance your concrete structures. Whether it's for stairs, balconies, patios, or pool decks, we are experts specialized in applying high-quality coatings for these outdoor spaces.
Meet the Béton Surface Québec Flooring Team
Passion is at the Heart of Our Work!
Jean Pierre and Caroline, both passionate about renovations, are not only business partners but life partners as well. Residents of Quebec for nearly 10 years, they have accumulated several years of experience in project management and customer service.
Together, they form a complementary duo to ensure residents of the Quebec region receive a quality service that meets their expectations.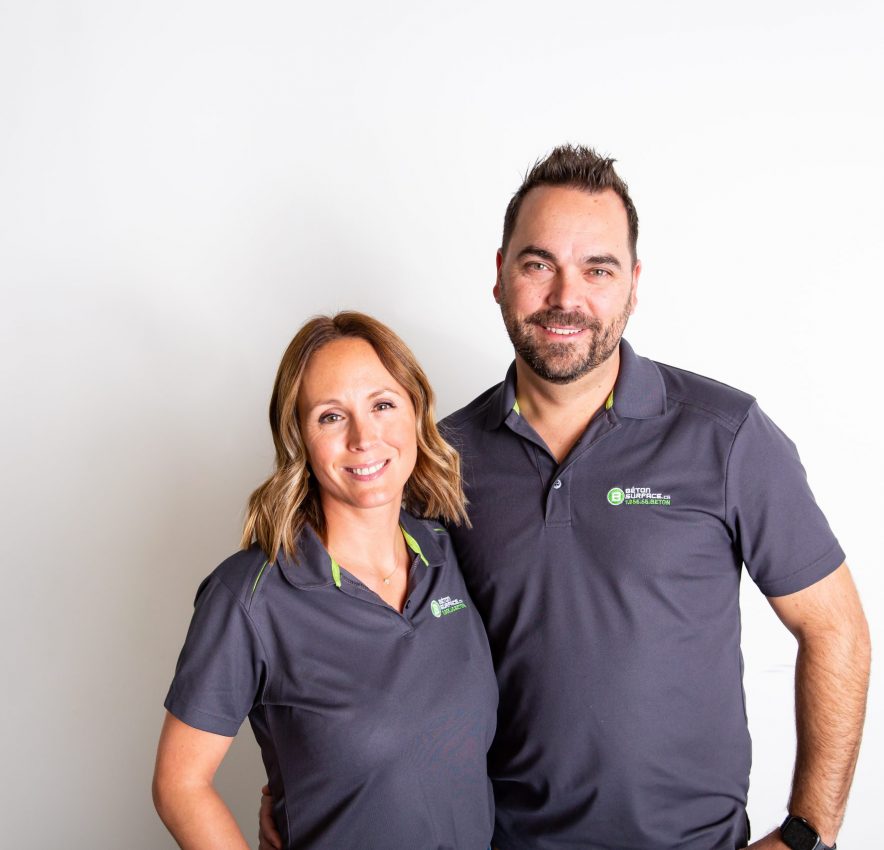 We have always had the entrepreneurial spirit, and Béton Surface has allowed us to fulfill a shared passion.
Receive your instant quote in less than 2 minutes.
START PLANNING YOUR PROJECT
Take the first step towards the smart choice for your floor!