Commercial concrete floors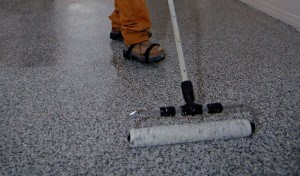 It has been proven that the work environment has a direct impact on employee well-being, leading to a more positive atmosphere and increased productivity. We can make the comparison that a beautiful restaurant that is nicely decorated and well-maintained will attract more clients. The same principle applies to commercial garages and retail stores: customers have greater confidence in orderly, clean business establishments.
Solution for office spaces
There is a strong trend these days for concrete floors with a clear, shiny finish. This high-tech finish is the perfect solution for office spaces. This gleaming finish will lend a much calmer atmosphere to the work environment, making your employees less stressed and more appreciative of their employer. Béton Surface has developed a technique that guarantees professional results. We first go over the surface with a concrete grinder several times, using progressively finer diamond stones. The surface is then covered with two layers of clear epoxy. The results are amazing!
Solution for restaurants
For restaurants, Béton Surface suggests its new line of epoxy products with a metallic finish. This is a totally different look which produces an immediate WOW effect. You'll get a steady stream of positive comments from your customers. The colours, effects and patterns are infinite and go well with any décor. Talk to our representatives to find out about all the different possibilities. The technique for the metallic finish is different. We start by grinding the concrete surface. We then apply a coat of metallic epoxy with one or several colours. It is also possible to make different patterns by using masking tape. The final step involves applying a coat of epoxy with the desired gloss level.
Solution for commercial spaces
For your commercial space, we recommend our 100% solids coloured epoxy coatings. Whether for a retail store, a warehouse store or a big-box store, this is the ideal solution. Your customers will be delighted to come into your store with its beautiful floor painted with your company colours. This coating is achieved by grinding the surface to guarantee proper adhesion. Following this, we apply two coats of 100% solids coloured epoxy. We can also paint yellow safety lines.
Regardless of the finish chosen for your office or commercial space, it will be much more attractive, maintenance will be easier, and increased durability is guaranteed.