For your plant or warehouse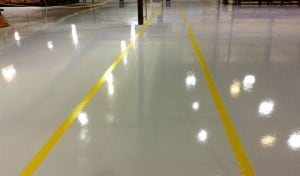 If the surface of the floor of your plant or warehouse needs a new finish, you've come to the right place. Béton Surface specializes in all types of concrete floor coatings. Regardless of the condition of the floor, we can recommend a solution.
We are specialists
Béton Surface has the expertise needed for finishing your concrete floors. We have everything required to complete your project successfully:
Highly-skilled, professional workers
The latest high-performance equipment
Superior, industrial-quality products
High standards for quality and health and safety
RBQ license, CCQ certification
When you decide to do business with Béton Surface, you will immediately get the feeling that you're being taken care of. The first step consists of a visit from our representative to prepare an estimate of the work to be performed. He/she will advise you about the different available solutions that best meet your needs. We offer the following products:
100% solids epoxy in various colours
100% solids epoxy (clear)
100% solids polyurea polyaspartic floor coating with vinyl flakes
Safety lines
Anti-slip coatings
We will then send you a detailed written quote. When you decide to let us finish your concrete floor, we will work with you to choose a date for performing the work. At Béton Surface, we listen to our customers and are flexible about when you can free up your floor while minimally impacting your operations.
You'll see how professional and courteous our employees are. They will start by using a diamond grinder to mechanically rough up the surface. Then, depending on the condition of the slab, we might apply a self-leveling epoxy to eliminate any damage still remaining. If there are any cracks, we will open them by using a grinder, then applying an epoxy product that hardens instantaneously.
When we're satisfied with the preparation, we will apply the finishing products that you have chosen.
Positive impacts
After applying our concrete floor finish, you will immediately see a positive impact on your business. The interior space will be brighter, your health and safety performance will be world-class and your employees will have a rewarding workplace. Your visitors and customers will also be impressed. Making these changes is far from relaxing and requires a certain investment. But every morning, when you make your rounds of the plant, you'll tell yourself that the effort was worthwhile.