Over the years, the outdoor concrete surfaces of your house become unattractive and dull. Every year, after you pressure-wash your walkway, patio or porch, you tell yourself that it's the last time you're going to do this long and tedious job. What you find most discouraging is that two weeks from now, time will start taking its toll on these surfaces once again. You think that it's time to hire workers with percussion drills to re-build all these concrete structures. The very idea of having to remortgage your house gives you the cold sweats.
Our concrete coatings are ideal for:
Concrete stairways and balconies
Concrete terraces
Concrete pool walkways
Maybe you'll decide to cover all these surfaces with synthetic grass carpeting, but before you do so, be aware that there is an economic, long-lasting solution to your problems. Béton Surface recommends renovating your concrete structures with its polyurea system with vinyl chips or quartz granules.
The advantages of these trendy new outdoor finishes are:
Anti-slip surface
UV resistant
No discolouring
Water-, weather- and abrasion-resistant
Work completed in a single day
Rich, natural look
5-year limited guarantee for outdoor applications
Béton Surface has all the equipment and qualified personnel needed to safely complete your outdoor concrete finishing work.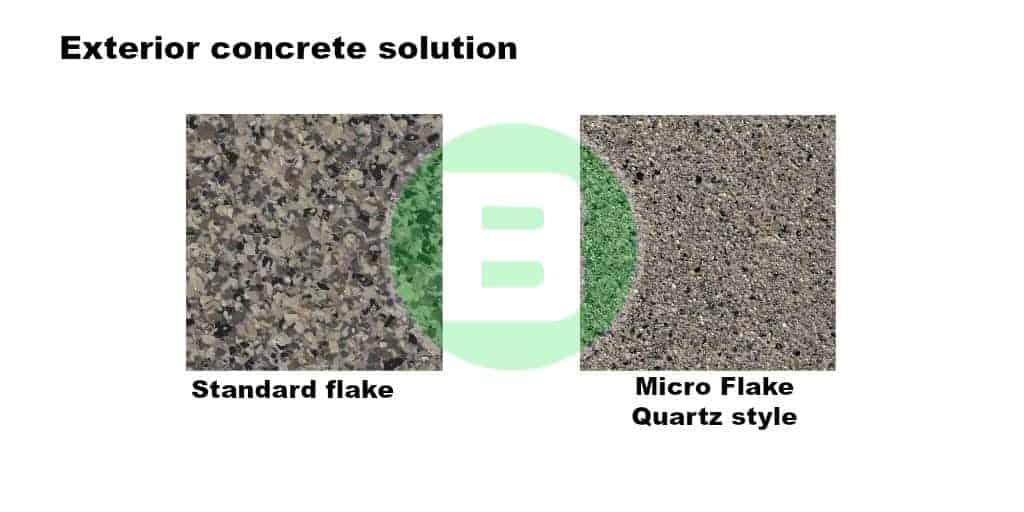 Vinyl chips or quartz: which to choose?
It's mostly a matter of taste. Choose the one that goes best with your outdoor décor. The difference is in the texture. If you like more texture and colour, choose the vinyl chips; on the other hand, if you prefer a more neutral finish that will blend with the decor, the micro flake aggregate is for you. Both are available in 10 pre-determined colours. We can advise you to help you make a more informed decision.
Regardless of which one you choose, the application time, quality, durability and guarantee are the same.
There you have it! The work is finished and you're proud of the result. You can now enjoy your home's outdoor spaces with peace of mind. You know you won't have to clean your concrete for many years to come. Company, a cold beer, steaks on the barbecue – what a pleasure! Don't be surprised if your neighbours are curious about your nice-looking concrete!

[Total: 15 Average: 3.2/5]